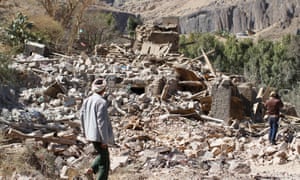 The US military has launched an investigation into the scale of civilian casualties in a botched special forces raid against a suspected al-Qaida base in Yemen, the first such mission to be approved by Donald Trump, as questions mount over the operation.
After initially denying there had been any civilian casualties in Sunday's raid, US Central Command (Centcom), which is responsible for military operations in the Middle East and central Asia, acknowledged some of the dead may have included women and children, though claimed some of the women were armed.
A statement said its assessment "seeks to determine if there were any still-undetected civilian casualties in the ferocious firefight."
The Pentagon has said a US Navy Seal, chief petty officer William Owens, and 14 militants were killed in the raid in al Bayda province. Medics at the scene said about 30 people, including 10 women and children, were killed. Three US special forces were wounded.
The mission was approved over dinner five days after the presidential inauguration by Trump and his closest advisers, including his son-in-law Jared Kushner and his special adviser and former Breitbart executive Stephen Bannon, as well as defence secretary General Jim Mattis.
READ THE FULL REPORT HERE: Questions mount over botched Yemen raid approved by Trump | World news | The Guardian